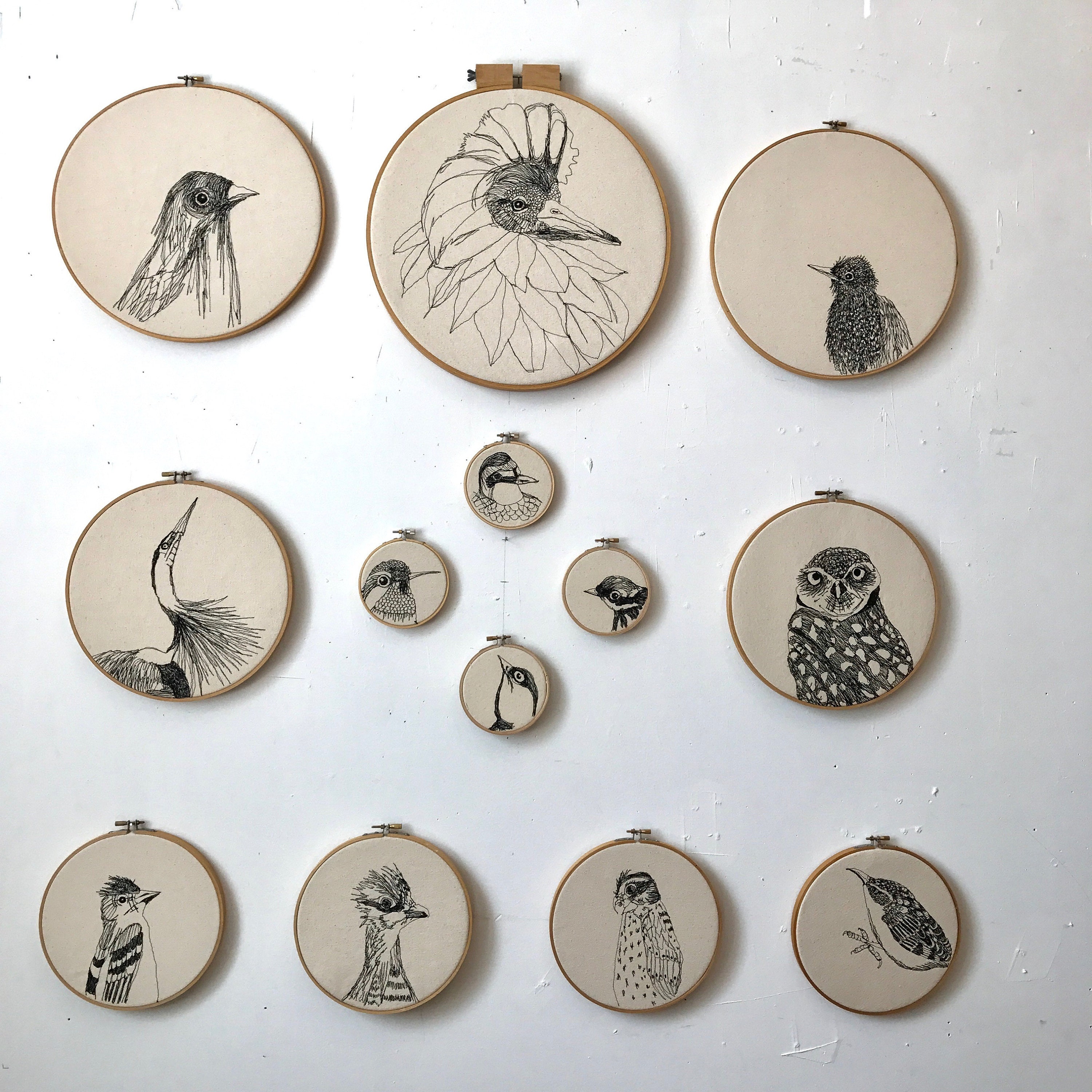 I've been working the past three weeks on a show I am going to be in called "Birdland and the Anthropocene" taking place in The Peale Center, which was the very first museum ever created in the United States, and its here in my home town of Baltimore.  
This is a timely exhibition about the Anthropocene, the new geologic era in which human influence is shaping earth's systems including climate and the environment. This exhibit is mostly bird-oriented and we address extinction, endangered species, and the postnatural.
-Lynn Parks (curator)
I am so excited to be part of this amazing exhibit and so very happy to be working as an artist towards a concept that I feel so strongly about. Given my new sitaution of retirement from teaching, I now have the time to explore and create new works towards this show. I have been given two cabinets to fill in a large room that will also have a bird soundtrack filling the space. 
SO this is what I did......this is my artist statment that will be in the catalogue for the show: 

I wake up every morning,welcomed usually by a bird song, or a look, a sighting of something that just flew past my window. I love the one-to-one connection of the bird looking back at my smile. I love their attitude. How loud they are and how they act like they own the place. They feel as much at home in Baltimore as I do. I have been working with fibers to find the best vehicle for communicating this special connection that I feel with birds. I like playing with whimpsy as much as the seriousness of the detailed mark marking. Both exhilration ,as well as, serious concern, I have for their existence and their extinction.
In The Genealogy of My Imaginary Family, I selected a variety of native birds that range from the familiar to the extirpated breeds from Maryland. I wanted them to feel like family portraits, arranged to create a narrative of subtle expressive reactions and silent dialogue. Each portrait is created freehand on the sewing machine. Drawing each mark, value and detail by manipulating the canvas under the moving needle. Each has a final result of a line drawing but with a more labor intensive method that I chose as a dedication towards their preservation.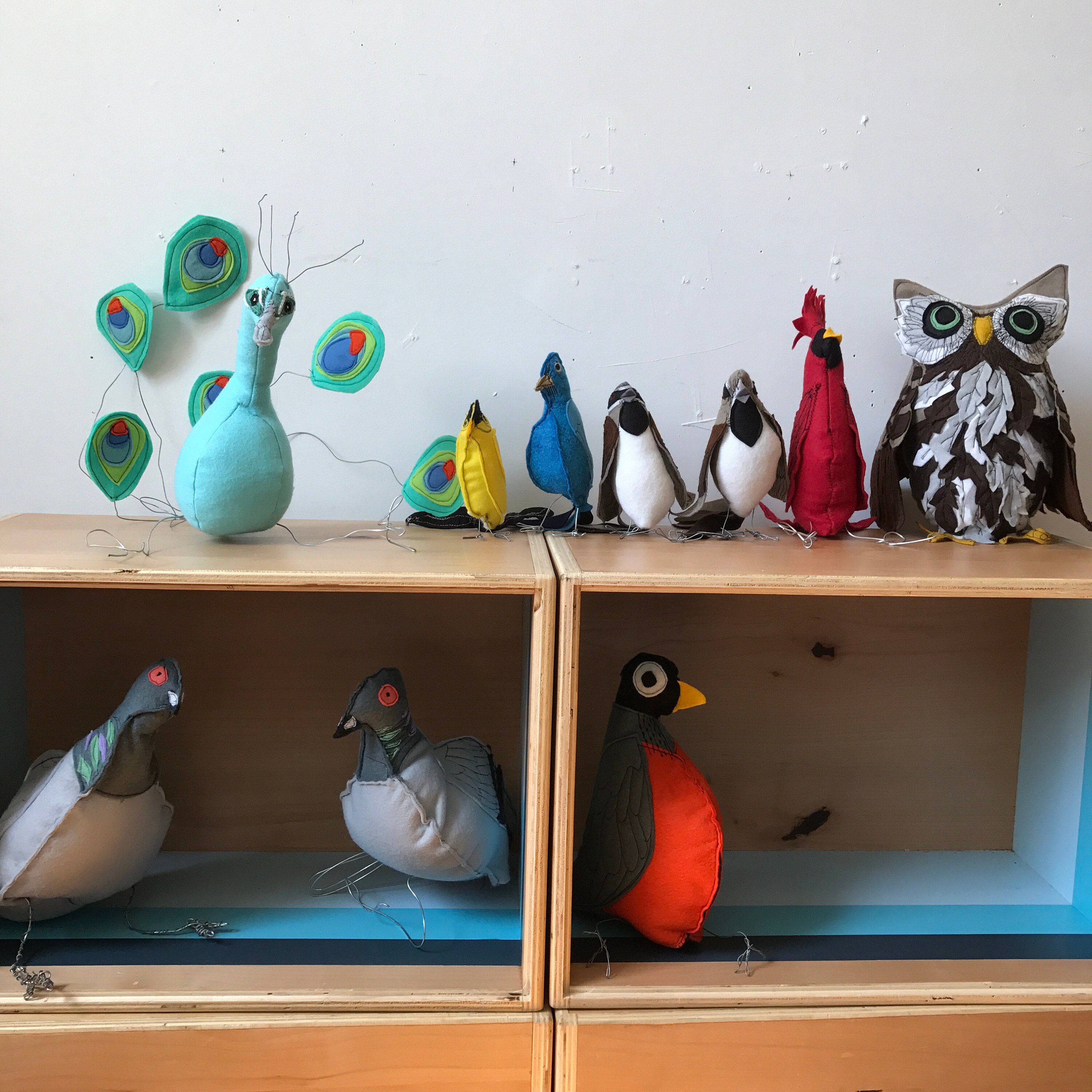 In my piece Not for the Shooting Gallery, stuffed birds are created to be somewhat of a hybrid of the stuffed animals (like the ones you win when winning a game at a carnival) with a stuffed replical. Subjects were selected by either their popularity or their un-popularity. Made of wool blend felt, recycled polyfilled stuffing and freehand machine stitched detailed and wire feet.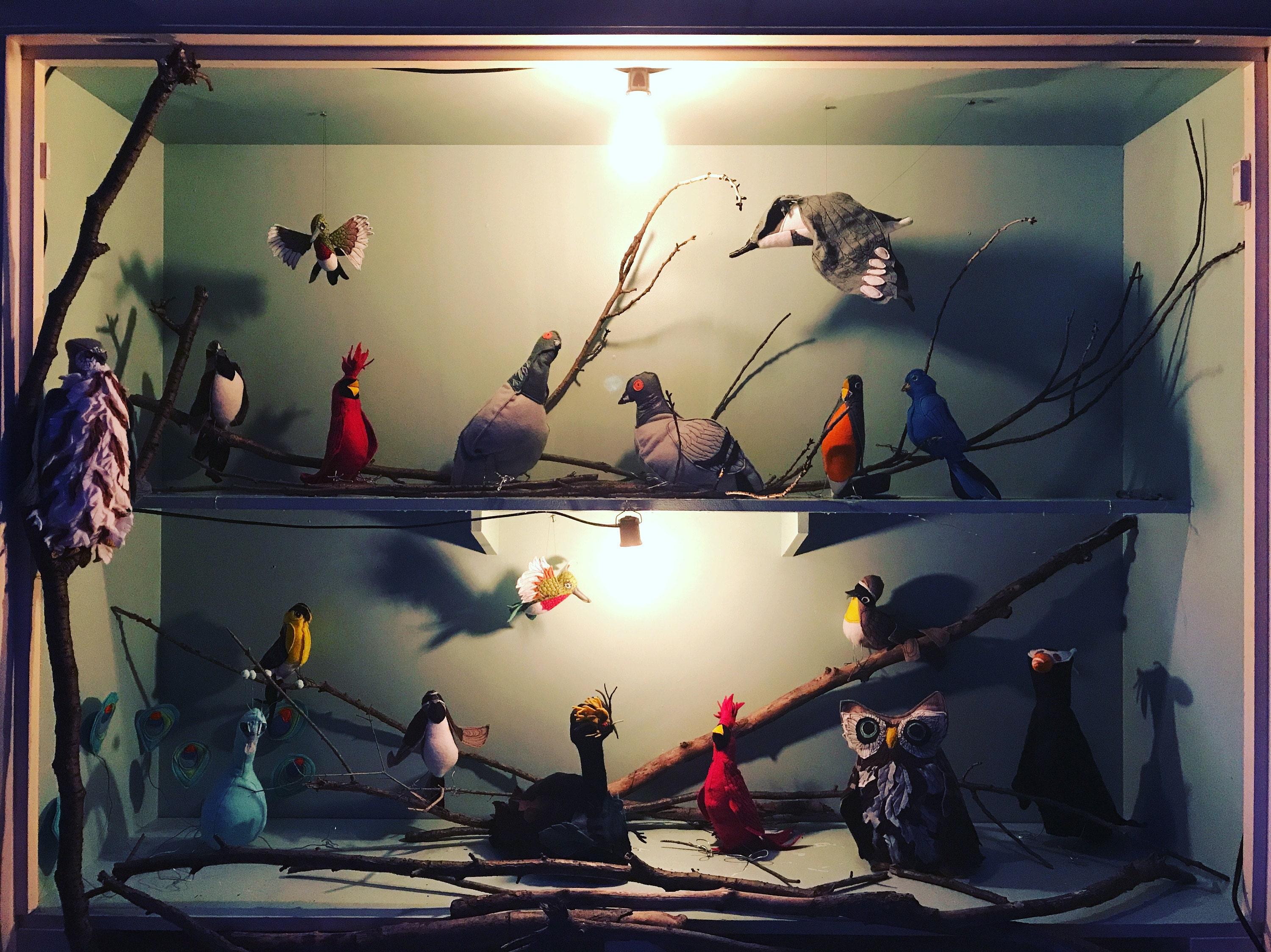 The Birdland and Anthropocene exhibit runs frm October 5- 28. At the Peale Center, 225 Holliday Street, Baltimore, MD 21202.